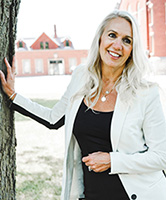 Gail Hundt, President & CEO

Tel: (519) 352-7540, ext. 2213
Fax: (519) 352-8741
Email:
gail@chatham-kentchamber.ca
Previous to her employment with the Chamber in 1996, Gail was a long-time employee in the financial industry. Gail believes in continued volunteer involvement and lifelong education. Volunteering as a member business led to a Board of Director position with the Chamber where she first hand noted the benefits to business - so much so, it sparked interest when the opportunity came for the position of President & CEO.
Gail is a Past Chair of the Board of Directors of the Chamber Executives of Ontario and Director on the Board of Chamber of Commerce Executives of Canada and Ontario Chamber of Commerce. She was awarded the James Gordon Carnegie Award in 2018, selected by peers for her mentoring and contributions to the Chamber executives and organization.
Gail actively participates on the Chatham-Kent Community Leaders Cabinet as Co-Chair of the Employment Action Team. She Co-Chaired the Small Business & Entrepreneurship Advisory Group of the CK Economic Recovery Task Force in response to the COVID-19 pandemic. Gail has provided a voice on the municipal Business License Review Committee, Customer Service Review Task Force and Capitol Theatre RFP Committee. Gail continues to provide opinion on the Municipal Council Remuneration Committee, as well as many other initiatives as they arise. She has volunteered and contributed to numerous community groups and organizations including participation with the inaugural 'Positivity Day in CK' Steering Committee, and is a Past Director of the Board and was Chair of the Building Committee with the new YMCA of Chatham-Kent. For many years, Gail was a member of Rotary and now enjoys being a 'freelance' volunteer where she can.
As a lifelong resident of Chatham-Kent, Gail is very happy enjoying all that the Municipality provides. The lifestyle, cost of living, amenities of waters, trails and landscapes and the relaxed, stress free travel times makes it easy to appreciate Chatham-Kent for all it offers. Gail has 3 life philosophies 1. Work hard, and have fun doing so. 2. Mistakes are made only by those who try. 3. Believe - in yourself, your community, your passions…