Support Chatham-Kent businesses this holiday season and you could win a $50 gift card for a small business anywhere across our municipality! Its so easy to enter. All you have to do is make a purchase from any business, no minimum purchase value, between November 25th and January 5th and send your entry to the Chatham-Kent Chamber of Commerce! Your entry can be emailed, mailed or hand delivered to our office at 54 Fourth Street, Chatham, N7M 2G2. Shop, Spend and Win!!! There are no forms to fill in but don't forget to include your full name, address, postcode and contact number. 6 gift cards will be drawn each week and are selected at random for the lucky winners!
You can take a selfie at the store OR a picture of your purchase and send to us, along with a copy of your receipt clearly showing the business name and date of purchase. You will then be entered in to the weekly draw.
Click here for full competition rules.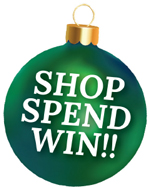 In partnership with






and all regional BIA's
Gift cards generously sponsored by